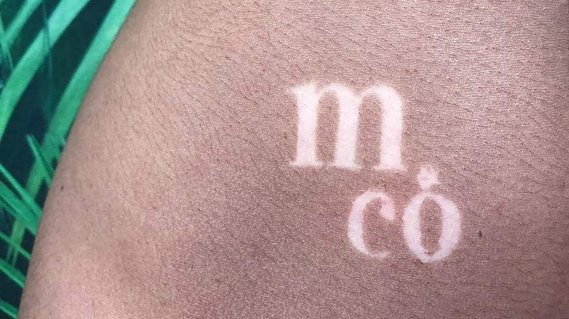 Spray Tan
$50
We will create a custom blend of MineTan formulas from a gorgeous glow to deep bronzed goddess. All formulas are express which means you will only have to leave the fresh tan on for a maximum of four hours, depending on your desired depth. Our tan techs will advise you on colour selection and developing time to create the tan you crave!
Make an online booking...
How dark will it be?

Your tan tech will talk you through the range of tones we offer, and work out which is best for you. Processing time will also affect the final result.
Will I be orange?
Gone are the days of the Cheeto tan! Tanning products have come a long way over the years, and it is hard to get an "orange" tan nowadays. MineTan is an incredible range that M&Co has chosen due to its range of colours, undertones, and beautiful results.
Do I have to leave it on all night?
Nope! MineTan is a fast-developing tan. The amount of time you'll wear the initial tan before showering will be decided by your tan tech. This is generally between 1-4 hours, most are recommended to develop for 3. Once you shower, you can wear your favourite clothes, go out of the house and not stain the bed sheets! The tan appears much lighter after your first rinse, but give it 6 hours to continue the developing process and it will be perfect.
How do I prep for my appointment?
- Moisturise your body for the 3 days leading up to your appointment.

- Complete all hair removal and exfoliating 12-24 hours before your appointment. Doing a cheeky shave before you rock in can result in the tan pooling in the hair follicle (which means little nasty dark dots all over your legs)

- Please arrive to your appointment with no makeup, deodorant, perfume or moisturiser. These products create a barrier on the skin and can react to the tan solution. Deodorant turns your underarms green and perfume will do the same if this remains on your skin.
- Bring a loose outfit and shoes to pop on after your tan ie. trackpants, t-shirt & thongs (pyjamas and slippers are always a big yes from us too!). Umbrellas are a must if it's raining.

Is there any aftercare?
Do not wash your hands, use hand sanitiser, or get your developing tan wet at all. Your tanning technician will recommend your development time and at this point you will need to shower in lukewarm water, giving it a really good rinse. You can run your hands over your body to help remove the excess, and don't forget behind your ears! Do not use body wash or shampoo/conditioner for your initial rinse. You may use them 12 hours after your first rinse. Do not use scrubs, loofahs, exfoliating mitts or products with chemical exfoliants for the duration of your spray tan as this will remove or affect the finish. After your showers be sure to pat dry the skin rather than rubbing. Moisturise your body every day, starting 12 hours after your first rinse.
How can I prolong my tan?
You can use a gradual tanner to prolong your M&Co tan, we retail these in salon! We also recommend using the MineTan facial tan products because cleansers/serums/exfoliants will wear off your face tan.